Search vs Social Content Marketing -Which One to Prefer?
When I launched my first blog in 2014, over 85% of my traffic came from Facebook. I didn't have good knowledge of keyword research or search engine optimization at that time. Therefore, I just focused on creating viral social contents.
I used to share click-bait contents on the facebook groups with over 50k members. At that time, the organic reach of Facebook posts was very high, especially while posting in facebook groups. Our (I and my team) exact steps were to first join dozens of active facebook groups with a large number of members, write contents with catch headlines (& images) and share them in the relevant groups. And this simple trick helped us to generate over 10k page views per day on my blog.
In fact, one of my clickbaity post named – "How Game of Thrones might end? (10 Best Fan Theories)" generated over 30k page views in a week. It took us only two hours to build that post. We literally copied ten popular fan theories from Reddit and created a long blog post. And then we shared that post in around 8–10 Game of Thrones facebook group (the average number of members in each group was about 15-20k). And boom, our blog was flooded with traffic.
During that time, Facebook was an excellent source to get free organic traffic. However, next year Facebook changed its algorithm and since then the organic reach of the Facebook posts has been continuously declining. Now if you want to reach a similar big audience on Facebook, the only alternative left is paid advertisement using facebook ads.
Later that year, I started learning keyword research and search engine optimization. And it seemed a little tight to write search-friendly contents compared to social contents. Here, you have to research different factors like what content people are searching, how much volume of people are searching for that keyword and how to write a fantastic article that can outperform existing articles for the targeted keyword and get ranked on the first page of google. Anyways, search content is definitely not as easy as creating social contents. But with time and practice, I became competent in writing search-based contents.
Today, I am comfortable with writing both search and social friendly contents. However, I need to mention that they both are not the same. The audience for your search and social contents will be different.
But, before we dive deeper into this topic, let's first understand the critical traits of search and social contents.
Search vs Social Content Marketing
There are two ways to attract the audience. Either they find you, or you find them. And this is the fundamental difference between search and social content.
For search content, people look for your contents on search engines like Google, Bing, Duckduckgo etc. for their problems. And whenever your content is relevant to the question, google shows your content in the search result.
On the other hand, for the social contents, people are 'NOT' actually looking for your contents. However, if they find it interesting, they might check out your content. In other words,
"When audience wants to find you…" — Search content
"When you want to find the audience…" — Social content
And obviously, the approach to be followed for the search contents and social contents are different. For search content, the valuable posts work best as these are the contents that people are searching for. On the other hand, for the social contents, virality is critical.
Search Contents:
Here are a few key traits of search contents.
These contents are the symbol of Trust and Quality as Google (or other major search engines) are referring to them when you're searching for any query.
Blog posts, Guides, How to's, etc. kind of long-form content which solves or answers the query of audience works best as search contents.
These contents live for a very long time. If you have written an outstanding content, and it gets ranked on google, it will continue sending traffic to your content for a long time (until a better content replaces your post on google ranking in future).
The main aim of search contents is to inform, convince, answer or solve the problems of the audience.
Search contents require a few strategies to get ranked on search engines like keyword research, search engine optimization, building inbound backlinks, etc.
Social Contents:
Here are a few key traits of the social contents.
The audience is not specifically seeking for the contents posted on platforms like FB/Twitter/Instagram etc. However, if they find it interesting and compelling, they will engage with it.
Emotional, humorous and inspiring posts work best for the social contents. (In recent days- live videos are also performing well and reaching more audience on Facebook or Instagram Live).
The life of social contents is short. Probably between half to one hour. A regular tweet shared by you may get fade away within next 30 mins (unless it gets viral or gets multiple shares by your followers).
The aim of these social contents is either entertain or to trigger emotion to convince the audience to take the call to action.
Keywords or SEO is not much important for viral contents. Here, the headlines and pictures should be catchy.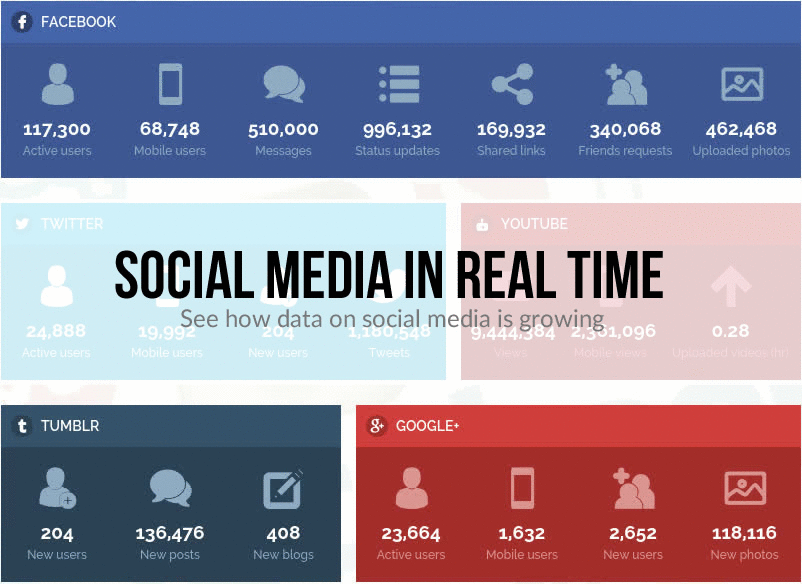 (Presented by Coupofy)
Should you focus on Search content or social content?
If it were the year 2008–10, I would have suggested search content. At that time, it was very easy to get ranked on google using simple keyword stuffing tricks. On the other hand, if it were the year 2010–2014, I would have suggested focussing more on social contents, especially facebook — as at that time its organic reach was way high.
However currently, there is a tug of war between search and social contents. Many websites are getting tons of traffic from Google. On the other hand, there are different sets of websites who have built their whole empire on the social platforms by creating a massive following on Facebook, Twitter, Instagram, etc.
Nonetheless, according to a recent referral traffic report from Shareaholic — 2017 was the first time since 2014 when traffic from search dominated over the traffic from social platforms. Here is the summary of the report —
For the first time since 2014, Shareaholic says search outpaced social in the percentage of overall traffic it delivered in 2017. According to the analytic platform's data, search drove 34.8 percent of site visits in 2017 compared to social networks which accounted for 25.6 percent of referral traffic. (Read more here)
Image Source: Shareholic
The above study highlights that the search content got more traffic over social contents in the year 2017. So, if you are ignoring search contents or SEO for the last few years, then it may be the time to enter the arena.
Can the same content fit for both search and social?
No matter what the scenario, it would be safe to conclude that the audience & their behavior for search and social content are different. You can optimize your contents a little to fulfill both purposes. However, great social contents rarely fit into the category of great search contents (and vice versa).
For example, think of the Kiki Challenge. Many #KikiChallenge videos by different Youtubers or Instagramers got viral on the social platform. However, after a month when the trend is over, those videos might rarely be getting any traffic from the google search.
https://www.youtube.com/watch?v=FRtDn_4f_wI
Similarly, many videos of 'cute cats' gets viral on facebook every day. However, the chances that people are actually searching for that specific cat on google is very low.
In short, if you are making a video of cute cats, it may be viral on social media. But the chances of getting consistent organic traffic from that content is tiny. Overall, a great social content might not be a great search content.
Also read: 11 Insanely Powerful Ways to Drive Traffic to Your Blog
Bottom line
Both search and social contents are an effective way to get the audience, and it is challenging to conclude which one is better.
However, if you are confused which content is best for you, then the first step would be to audit your website. Figure out which contents are performing better for your website/blog.
For example, if your social contents are doing great, you can create similar contents to boost your traffic. On the other hand, if you are getting more traffic from Google, you may wanna keep building valuable contents and continue working on keyword optimization and SEO to improve it further.
Final advise, do not ignore any of them totally. Focus on both search and social content. As the wise old people used to say- 'Do not put all your eggs in the same basket".